Blog

 In my blogs I will focus on how to use crochet to create stuff that will make life easier or prettier... Read up as you might find some of them useful as well. Some designs will be for free and some designs will have a price... It all depends on the effort it went into making/researching/designing it.
Please check the list of the blog entries as the titles of each entry will more or less hint what it is about...
Sign up for a NEWSLETTER as among regular updates, there will be seasonal creations that you will want to check out so you can have the best ideas made into best stuff by you! Subscription available on Home.
2021-07-12
I find that crochet can be used in practical purposes beyond a cover for when you're cold, baskets to hide stuff or holders for pots… 
I tried several solutions for the metal legs of the chairs we have that are not just four tips of legs on the floor, but full U 'pipes' (as I'm lacking a better word to describe it) that were driving me crazy every time the would be pulled out from under the table or be pushed to under the table. Even with a pre warning to be gentle and to be careful of scratching our new beautiful wooden floor, my family as well as my guests just didn't know how to do it properly… And I know! It is our fault to have such chairs on such floor, to even choose such floor in a room where we spend the most time, that the floors will see damage no matter what and not only from the chairs…. I know it ALL… But still my hart would break every time I would see a new scratch under the floor. It was just stronger than me… 
And then I remembered I had some dark T-shirt yarn and while I thought the two could be associated together it took a couple of tries to figure out how. But once I did, boy, did I fly! I was done in 30mins and was never happier with something I made… Since then even my husband commented and showed it to people coming to our house, how creative and smart I was… Something so simple but made me sooo happy…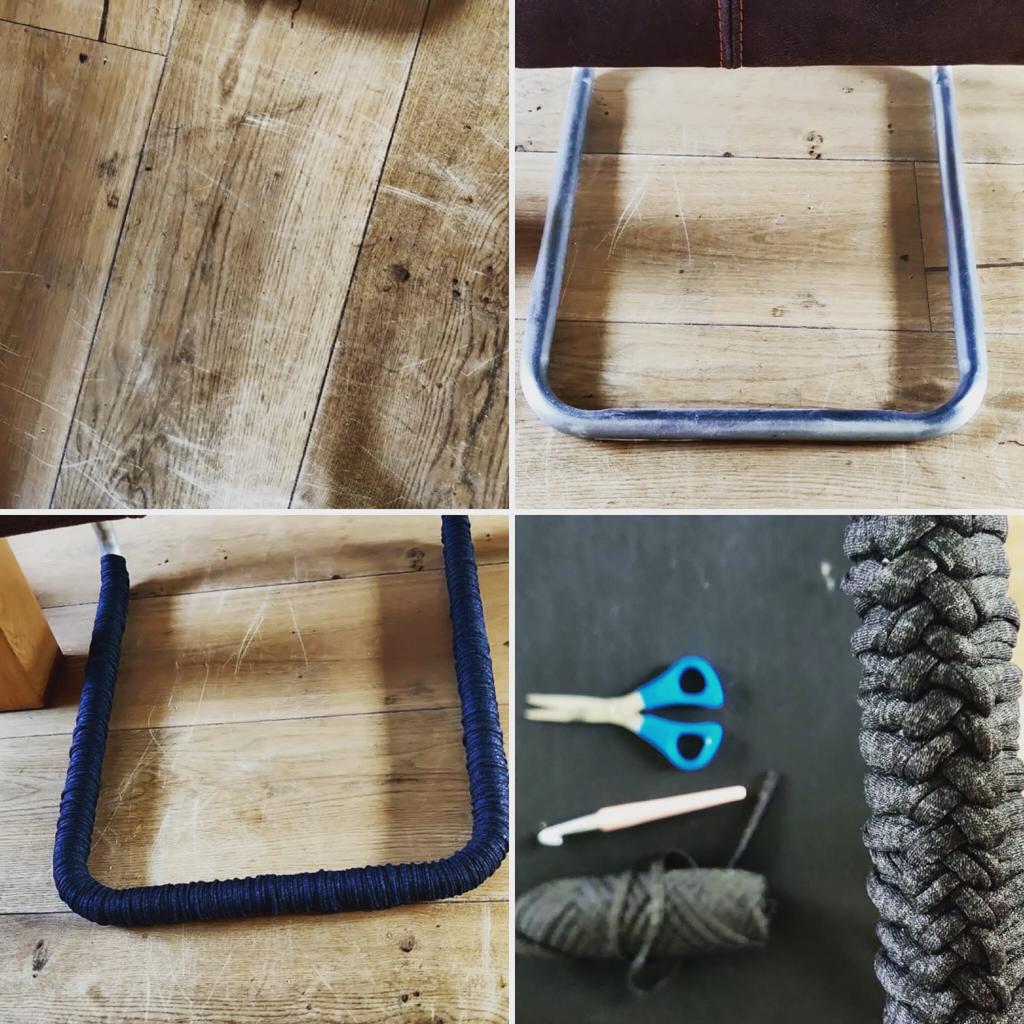 The photo is on the same day made, so I am still to make a photo to show how it doesn't have the scratches further made, but I can tell you it made all the difference… 
Have you used crochet to solve something in the house? Let me know, show me your solutions!
Admin - 09:59:04 @ General | Add a comment