Blog

 In my blogs I will focus on how to use crochet to create stuff that will make life easier or prettier... Read up as you might find some of them useful as well. Some designs will be for free and some designs will have a price... It all depends on the effort it went into making/researching/designing it.
Please check the list of the blog entries as the titles of each entry will more or less hint what it is about...
Sign up for a NEWSLETTER as among regular updates, there will be seasonal creations that you will want to check out so you can have the best ideas made into best stuff by you! Subscription available on Home.
2022-02-12
Crochet Business Hop For Charity


Dear readers,
Usually blog hops are about freebies/sales in return for visibility, which is how it should be, but once in a while comes something that is sooo much better than that! And that is giving to charity…
Melanie of Simply Melanie Jane has organized a blog hop that will benefit a child. How you might wonder? She decided to round up a group of businesses (in this case crochet designers and makers) and ask them to donate a portion of their monthly profit so she can raise 1800$ needed for a wig through Wigs for Kids organization. And some of jumped to the challenge! We wanted to help her with this but we still needed your help… 
The idea of this charity hop is to advertise a new business each day on her blog post Crochet Business Blog Hop for Charity which will have a sale on a specific day as well as through the month but not as high of a sale as on featured day. This Charity Hop will last until the last day of February 2022. So keep an eye on her blog to see who is featured and when… Another way to have a daily check to see if there is something interesting to you would be to give me a follow on IG profile where every day I will be sharing the featured business together with the links to it.
You can see below how this works…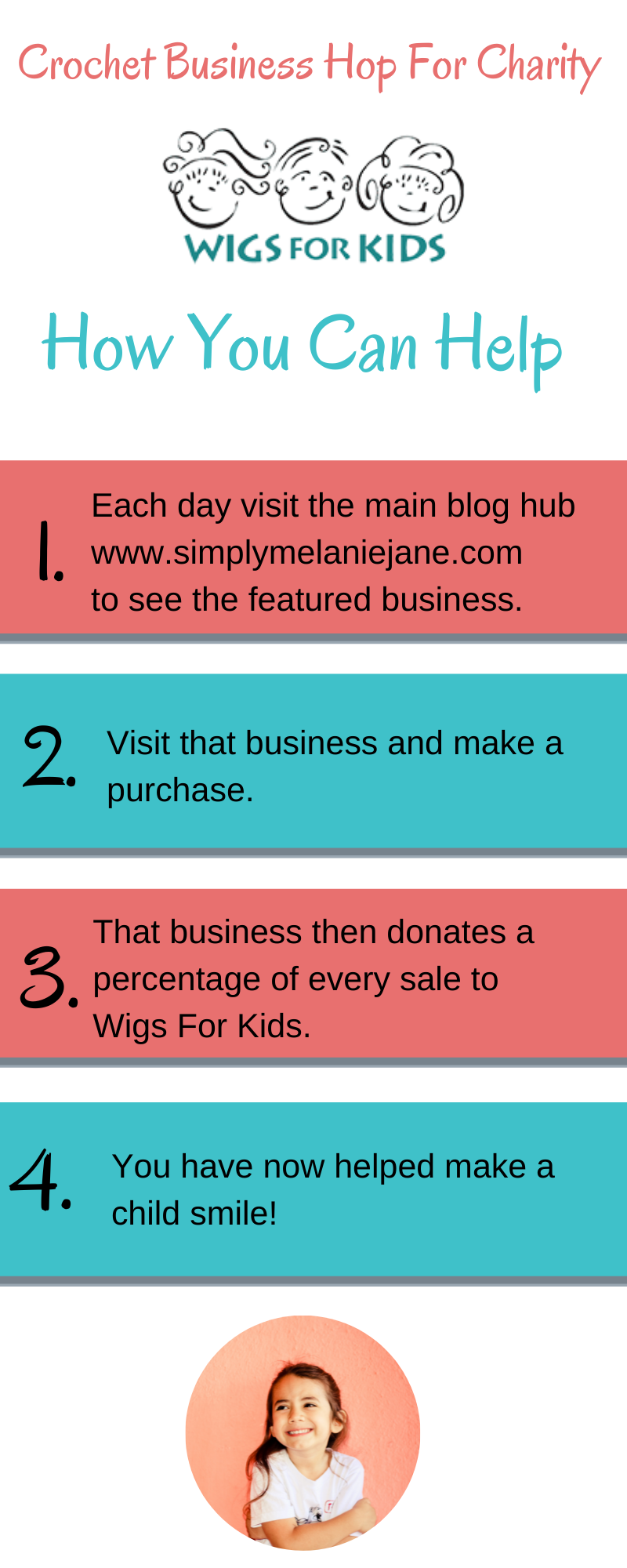 Not only will I be sharing the daily updates I will also be participating! 
On 13th and 26th February all of my patterns in my Ravelry shop will be on 50% sale, as well as 20% sale through out the month of February. The sales will start each day at 8am EST which is 2pm CET (Amsterdam time) and last for 24h. No code needed!
Please SUBSCRIBE to the newsletter in order to always be updated on releases, sales, blog hops and freebies!
Check out my FREE Printables (monthly agenda for makers/designers, Checklists for makers/designers, 2022 Calendar for makers/designers etc).
On the rights side on a desktop or at the bottom of the page on a mobile version you can find all my links!
Until next time, Yarnies!
Admin - 22:04:50 | Add a comment