Community Garden Blanket CAL

Hello my fellow Yarnies!
Welcome to the Community Garden Blanket CAL! This CAL is hosted by wonderful and super talented Helen of Sunflower Cottage Crochet. (click on the photos to enlarge)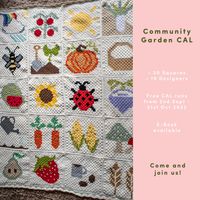 Community Garden Blanket CAL Promo
Community Garden Blanket CAL finished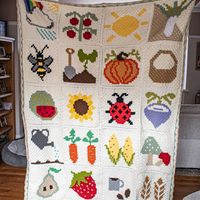 Community Garden Blanket CAL finished 2
Helen invited 18 talented designers to contribute with a design with theme for Community Garden and we responded! Each designer has produced a C2C square or 25x25 blocks that together made a beautiful blanket design with 20 squares. This design is brought to you as a FREE CAL in which every Mon-Wed-Fri a new design will be published and you will be able to get it from designers page for FREE. The event will last between 2nd Sep-21st Oct. All you will have to do check the round up post (button below) and let it guide you to the free C2C square. Once a square is published it will stay available to you for the duration of the CAL. In order not to miss it follow me on IG or FB as I will share every new square! Just click on the icon to IG or FB on the right side of the screen if you are on your PC or go to the bottom of the page if you are on your mobile!
In case you don't want to wait for the squares to be published or you want to have it already in one place you have an option to buy the BUNDLE as an e-book via the button below. The 132 page e-book has been lovingly collated and contains:

A contents page so you can easily find the square you would like to work on and print out specific pages if you do not want to print out the whole thing in one go
All 20 featured squares – chart, written and color block instructions for each square
PLUS 4 bonus squares that are currently not available anywhere else!
Links to Helen's tutorial on how to prep your squares for joining and borders
A step by step photo tutorial for how to do the joining of the squares
Written instructions for the border 
Designer credits – a list of the places for where to find each participating designer and how to get in touch them. So if you would like to follow them on social media that would be welcomed!
Please do not hesitate to follow me on social media or to subscribe to my newsletter. My social media icons can be found on the right side if you are on desktop or under the text if you are on your mobile phone. To subscribe just fill the form below! 
It is time for my square to be shared! Watermelon Square is here!
Materials
Yarn- Any yarn #4 weight in 5 colors (white, red, black, light green, dark green). Look below in the introduction for guidance on what yardage is needed. I used Drops Paris, 100% cotton, Aran (8wpi) for 5mm hook (US 8), 50g=75m (82 yards)
Gauge- 6.5 blocks x 6.5 blocks=4x4" (10x10 cm) if hdc stitches were used. End size of the square is 41x41 cm.
Hook- 5mm
Needle for weaving in the ends
Scissors
Introduction
If used as a standalone pattern it can be made into a pillow, tote bag, table runner or anything you want. All you have to do is either make 2 or more same squares or make a square in same size to be the back ground of the pillow or tote bag.
The stitch includes half double crochet (in US terms), chains, and slip stitches. 
For Community Garden CAL I used hdc but you can also use dc. The size by hdc will be about 16'' square if the gauge I had with the yarn I used is achieved with same or any other yarn. With dc stich it will be even bigger (by my guess about 21-22 inches). 
COPYRIGHT: This pattern is for personal use only.
You MAY NOT in any form reproduce or distribute this pattern in part or in whole through any venue, electronic, mechanical or otherwise without the written authorization of the publisher. Also, any use of my photos is not permitted.
If you are a maker you can sell the finished product for profit, as long as not mass produced. Please refer back to me as the pattern's author with a link to my shop!

Yarn supply needed (based on yarn I used):
Black color=2.84m (3.08 yards)
Red color=25g=37.7m (less than one skein-about half)
Light green=23.5g=35m (less than one skein-about half)
Dark green= 39.5g= 59m (less than one skein)
White= 79g=118m (about 1.5 skein)

On the graph each block is one C2C block.

You can download the FREE pattern between 3-5 October using the button below. After this the pattern will be available (extended version) on Ravelry and Etsy, while the graph will remain free on my blog.
Until next time Yarnies!

This page contains affiliate links. Which means I get a small percentage from the sales at no extra cost for you.